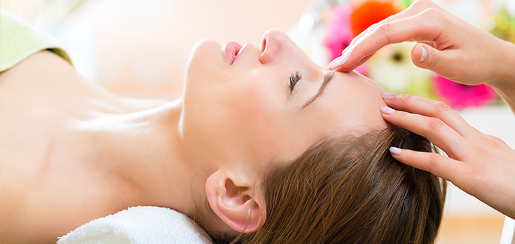 Indian Head Massage & Ayurveda Facial
A treatment that takes you through a journey of the senses. Rejuvenating the skin, hydrating the hair and scalp while balancing body, mind and spirit. Using natural products to enhance the skins radiance and stimulating energy through Marma Therapy. Crystals, massage and body work bring a feeling of complete relaxation & wellness. A warm oil treatment
for the hair, scalp and skin that is perfect for change of seasons and uplifting the spirit.
$166

Ayurveda Facial
Focusing on the specific needs of your skin at this present moment. Balancing energy, detoxification
and allowing a sense of letting go into a deep state for relaxation for the body, mind, emotions and spirit.
Including face, shoulders and neck massage as well as body work.
$133
Indian Head Massage

Experience soothing warm oil massaged into your upper chest, shoulders, neck and scalp
with a healing touch to bring complete serenity, hydration and energy balance.
$88