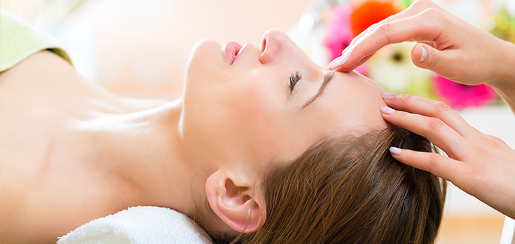 Indian Head Massage & Radiance Facial
$199
A treatment that takes you through a journey of the senses. Rejuvenating the skin, hydrating the hair and scalp while balancing body, mind and spirit. Using natural products to enhance the skins radiance and stimulating energy through Marma Therapy. Crystals, massage and body work bring a feeling of complete relaxation & wellness. A warm oil treatment
for the hair, scalp and skin that is perfect for change of seasons and uplifting the spirit.
Radiance ~ Energy Healing Facial $155

Awaken your radiance from within as you enjoy the inspiring aromas and the vitality
of natural ingredients,
rejuvenating massage
and energy balancing.
Experience deep relaxation, lightness and a youthful glow.
Our natural beauty truly is a reflection of your inner
environment, as you release tension,
activate your energy and embody your High Self, light
shines through your eyes, smile and even your skin.
Experience soothing warm oil massaged into your upper chest, shoulders, neck and scalp
with a healing touch to bring complete serenity, hydration and energy balance.