Global Soul Offerings
~ Soul Light Embodiment & Illumination Sessions ~
R
eceived in the comfort of your home, live
on zoom or in person
Welcome to Soul Light Embodiment sacred ceremony where every aspect of your being is honoured. You are invited to take a deep dive into the truth of your magnificent multidimensional nature. Remember how truly supported you are and how to co-create with your Soul Family who joins us on this journey of reclaiming your Sovereign Divinity.
How can we co-create and what you may receive during these powerful sessions?
Embody your Soul Frequency and Ignite your unique expression of Divinity.

Activate spiritual technologies as well as your unique gifts, talents, and codes.

Receive initiations to co-create with your Soul Family and Spiritual Guides.

Discover what lights you up with Passion and Purpose.

Download new codes to anchor more light and support your delicious human journey.

Clear and transform density, limiting beliefs, and self-sabotaging behaviors that share pearls of wisdom and insight for your evolution.

Learn how to tune-in to Body Intelligence and Divine Knowing of your Higher Self guiding you every step of the way to live in your greatest Joy, Love, Freedom, and Creativity.

Soften into receptivity as you call back your power and step upon your golden timelines of Abundance, Connection, and Delight.

Walk The Beauty Way with playful curiosity and wonder at how the entire universe is aligning to co-create a New Earth.

Activate your Angel Wings and Expand your Heart Consciousness.

Illuminate the world with your light, blessing everyone and everything in your presence.

Activate Light Grids of Gaia supporting global ascension.

Follow Your Divine Inspiration & Trust Your Truth

Every session is a channeled transmission and intuitively guided by your heart's pure intention. Which means that your transformation can be as slow and gentle or as rapid and graceful as in alignment. Both equally profound and powerful.

If you are receiving this transmission as a Global Online Offering live please prepare by creating a
sacred space that is quiet and peaceful. Where you have set aside time for yourself to be fully present and honoured . You may wish to light a candle, have fresh flowers, and your favorite crystals or meaningful items to create an altar. As well as a glass of water, journal, pen, and anything else that feels in alignment.
It is highly recommended that you have space after your session for integration. You may feel intuitively guided to be in nature, grounding and connecting. Perhaps have a relaxing bath, rest, time to journal, or something completely surprising shared by you your heart to lovingly honour and support you.
$266 / 75 minute session

Please set aside 90 minutes to allow us to flow with grace and ease.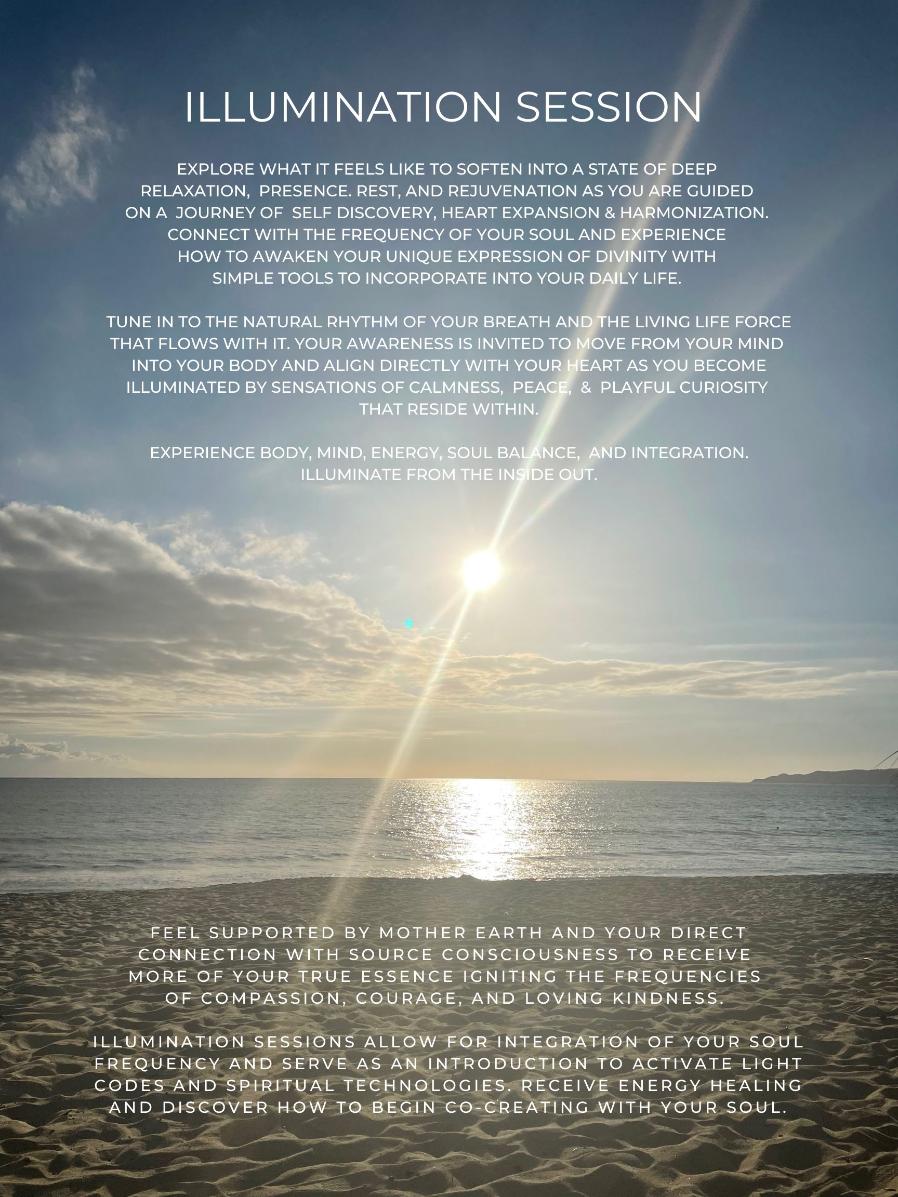 Illumination Sessions
What to Expect
In Illumination Sessions you are guided on a Journey of co-Creation with your Divinity. Supported by a variety of modalities which may include a combination of Guided Meditation, Heart Expansion, Conscious Breathing, Sacred Sound, Energy Healing, and more. To Align with your Pure Intention.
It is a channeled transmission in co-creation with your Higher Self... And your Soul Family if it resonates with your heart to receive their uplifting presence supporting your transformation.
An introduction to illuminate into your next levels of Heart Expansion, activate Light Codes and Spiritual Technologies to support your graceful Integration and Ascension.
Discover how to begin following your Heart and co-creating with your Soul.
You are invited to feel into your heart and set your intention for our session.
$133 / 45 minute session
Please set aside 60 minutes to allow us to flow with grace and ease.

Illumination Massage & Radiance Facial $266 / 2 hour session

Rhythmic movements and rocking compressions support your body to soften, balance energy, and welcome you to let go into pure relaxation. Soothing oils nurture your skin and invite your body, mind and soul to unite in a blissful experience of selfcare. Incorporating Illumination journey. $188 /
90 minutes OR
$144 /
60 minutes
Radiance Facial Illumination Session
Relax & receive the living life force of nature awakening your senses, illuminating your body, mind, and soul. Blessing your skin with rejuvenating pure natural ingrediency and nurturing massage in a guided journey to activate your Soul Frequency.
Experience deep relaxation, lightness and youthful glow that ripples through your entire being. Our natural beauty truly is a reflection of our inner radiance. The invitation is to allow your unique divine light
to
shine through your eyes, smile and even your skin.
Incorporating Illumination journey.
$
177 / 75 minute session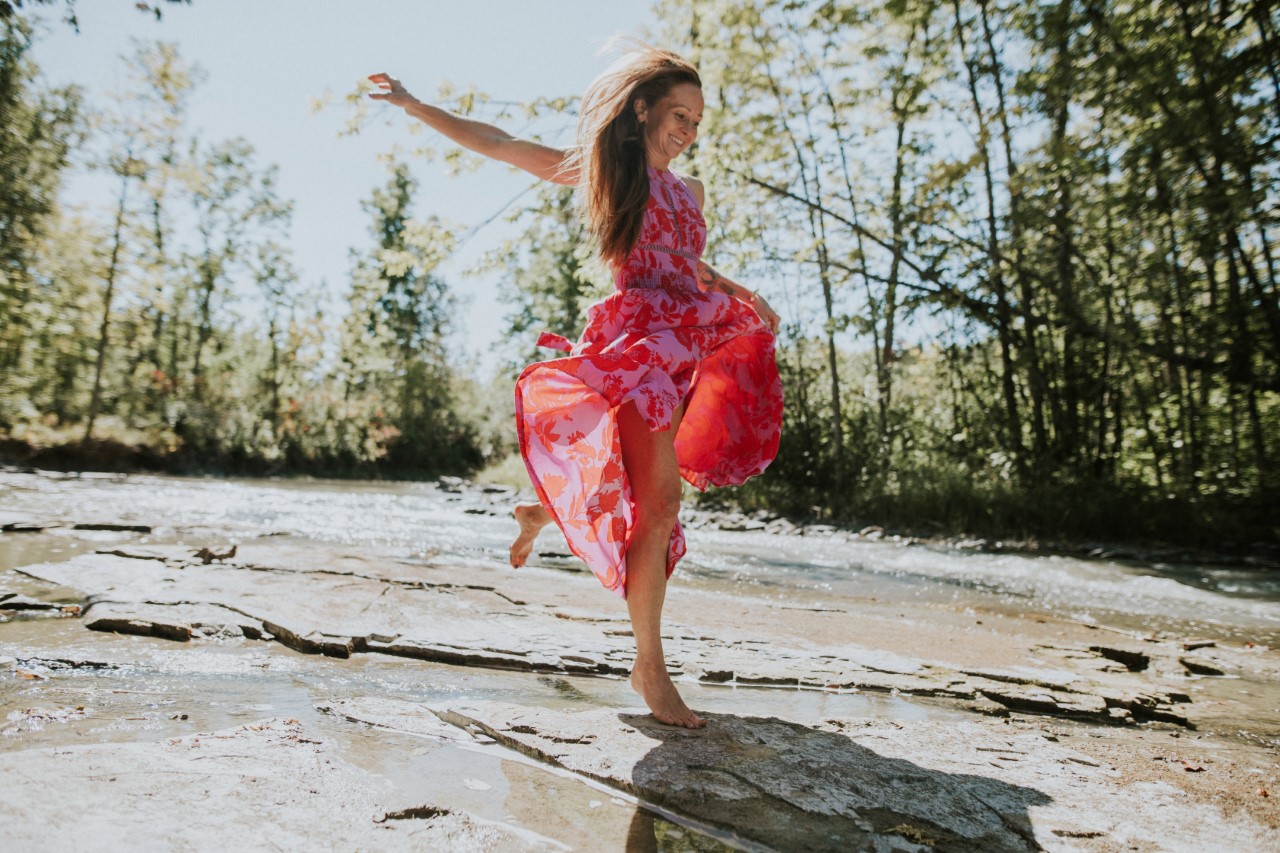 ✨💙✨ PLAY is essential ✨💙✨
It opens our mind and expands our heart consciousness to allow more love, joy, and inspiration to flow. Freedom to delight in the expression of our Soul Frequency dancing through our entire being.
We move beyond the constructs of our mind into the realm of pure connection and creation. Our joy filled passion lights our fire and ignites every cell of our body with the purity of our Soul.
Playful curiosity leads us to connect with our heart and everything around us in new and exciting ways that cause a ripple effect of LoveLight 💖 blessing all that is.
We embrace the magick awakening within that sings the song of our answered prayers and lights up the world with our radiance. Unapologetically sharing the joy of our Soul Mission with pure authenticity, grace, compassion, and a unique beauty that invites others to choose love for themselves, miraculously blessing everyone and everything they bring their focus to.
Here is your invitation to light up the world with your bliss and co-create your
Heaven on Earth reality 🌈
Illumination Sessions
Activate the pure LoveLight of your soul frequency
Infinite love and blessings beautiful Soul,
Terri Ann Radiance 💖